A distressing development has occurred with the canonization process for the Servant of God Archbishop Fulton J. Sheen has been suspended by the Bishop of Peoria, Daniel Jenky, CSC. The issue seems to be the refusal of the Archdiocese of New York to return the mortal remains of Sheen to his home diocese of Peoria; the archbishop died in 1979 at the age of 84, and was entombed in the crypt of the famed Cathedral of Saint Patrick. Earlier that year he met Pope John Paul II in Saint Patrick's Cathedral in a terrific embrace of brothers. The life and work of Archbishop Sheen might be likened to being a 20th century Saint Dominic of Guzman. After serving for three years (1966-69) as the Bishop of Rochester (NY), Fulton returned to New York City. The diocesan phase of the process was concluded in 2008.
Bishop Jenky's statement follows: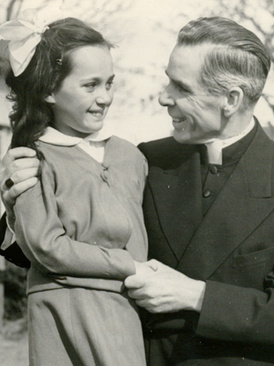 It is with great sadness and disappointment, Bishop Jenky announces that after nine years of effort and sacrifice, the Diocese of Peoria is suspending its efforts on behalf of the Beatification of Fulton J. Sheen. The Archdiocese of New York has made it clear that it is not likely that they will ever transfer the remains of Fulton J. Sheen to his home diocese of Peoria. The Bishop hopes that the Archdiocese of New York, in whose Cathedral crypt the earthly remains of the Servant of God are still entombed, might now assume this responsibility. In this endeavor he would pledge the cooperation of his diocese. The bishop urges the clergy, faithful and religious of Peoria to continue to pray for the Cause of Archbishop Sheen whose heroic virtues in announcing the Gospel and serving the poor were an extraordinary blessing in the life of the Catholic Church. The bishop would also like to remind all in his diocese and all those throughout the world who have so enthusiastically supported the Sheen Cause that finally it is only God who makes saints, not men.
The Diocese of Peoria remains committed to promote the message of the great priest, Fulton J. Sheen within our Diocese and to continue to develop our museum and research center devoted to his life.