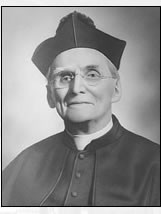 Among the 9 causes of sainthood possibilities was the American priest of Buffalo,
Father Nelson Baker
, known by the locals as the Apostle of Charity. His history spanned 16 February 1842 to 29 July 1936. Baker is one step closer to sainthood but there's a long way to go. He's now recognized as living a life of Heroic Virtue. We now address the priest as the
Venerable Servant of God
Father Nelson Baker
.