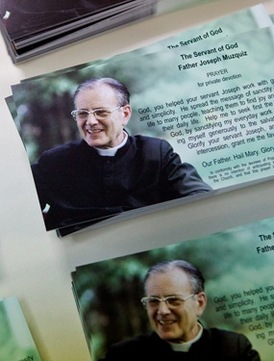 The Archdiocese of Boston announced on June 2 that it is taking to the next step in overseeing the study of the cause of canonization of Father Joseph Muzquiz (1912-1983).
In the
summer of 2010
the initial steps with the Archdiocese and the Congregation for Saints took place. Now, the key task of this process is to see if, in fact, Father Joseph Muzquiz lived a life of heroic virtue.
Father Muzquiz, a priest of the Prelature of the Opus Dei, worked with two others in bringing Opus Dei to the USA. Saint Josemaría had admitted Joseph to Opus Dei in 1941 and had him ordained a priest in 1944 and sent him to the USA in 1949.
With the opening of the sainthood cause, Father Joseph is now referred to the
Servant of God Father Joseph Muzquiz.
 Father Byran K. Parrish presided over the June 2nd ceremony in the name of Sean Cardinal O'Malley and the Most Reverend Emilio S. Allue, the episcopal delegate for the inquiry participated as well as the postulator of the cause, Father David Cavanagh of Opus Dei. About 150 people participated in this ceremony.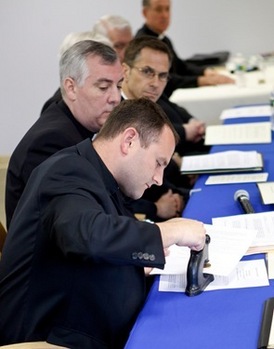 The prayer of petition for Muzquiz's canonization
God, you helped your servant Joseph work with generosity and simplicity. He spread the message of sanctity in secular life to many people, teaching them to find joy and peace in their daily life. Help me to seek first the kingdom of God by sanctifying my everyday work and dedicating myself generously to the salvation of souls. Glorify your servant Joseph and through his intercession, grant me the favor I ask of you.
Our Father. Hail Mary. Glory be to the Father.