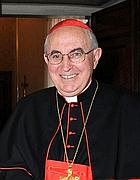 Cardinal
Agostino Vallini, 70, Pope's vicar of Rome gave the following talk at tonight's
Vigil at the Circus Maximus in advance of Pope John Paul II's tomorrow's beatification.
Divine
Providence gives us this evening the joy of a great experience of grace and
light. With this Marian prayer vigil we hope to prepare ourselves for
tomorrow's celebration, the solemn beatification of the Venerable Servant of
God John Paul II. Even though it has been six years since the death of the
great Pope–Bishop of Rome and Pastor of the universal Church for 27 years–his
memory is particularly vibrant. We feel veneration, affection, admiration, and
deep gratitude for the beloved pontiff.