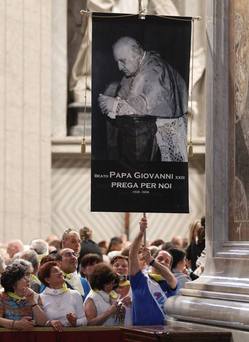 Dear friends of the Diocese of Bergamo,
I am pleased to welcome you here, at the tomb of the Apostle Peter, in this place that is home to every Catholic. I affectionately greet your Pastor, Bishop Francesco Beschi, and thank him for the kind words he addressed to me on behalf of all.
Exactly fifty years ago, just at this moment, Blessed John XXIII left this world. Those who, like me, [are of] a certain age, retain a vivid memory of the commotion that spread everywhere in those days: St. Peter's Square had become a sanctuary in the open, day and night welcoming the faithful of all ages and social conditions, in trepidation and prayer for the Pope's health. The whole world had recognized in Pope John a pastor and a father: a shepherd because [he was] father. What made him such? How could he reach the hearts of so many different people, even many non-Christians? To answer this question, we can refer to his episcopal motto, oboedientia et pax: obedience and peace. "These words," noted the then-Archbishop Roncalli on the eve of his episcopal ordination, "are [in a way] my story and my life." (Journal of a Soul, retreat in preparation for consecration as bishop, 13-17 March 1925).