Archbishop Ruggero Franceschini, OFM Cap. of Izmir,
Turkey, and Administrator of the Apostolic Vicariate of Anatolia and President
of the Turkish Episcopal Conference, gave the following intervention today. The
point of noting the Archbishop's intervention here is that I believe we have to be concerned with
the reality of the Catholic faithful in places outside our neighborhood. Catholics can't simply concerned with matters that are near. The June murder of Capuchin Bishop Luigi Padovese's death has remained a key point in my prayer, interest
in ecumenical and inter-religious dialogue, the missionary aspect of the Church's
preaching program and the extent to which one would lay down his life for the
Gospel of Jesus Christ. Is Luigi Padovese a martyr? Franceschini has been clear that Padovese's death was premeditated by Islamic radicals with a hatred toward Christianity while the Turkish authorities insist the murder was personal and not politically or religiously motivated. I am not sure as I didn't know the state of his soul or his true relationship with Christ. The designation of a person as a martyr is a matter for Mother Church to make, but I might be persuaded to think in that direction. Christians comprise less than one percent of the Turkish nation.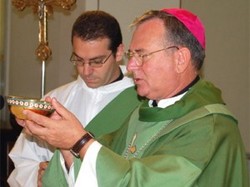 "The little Church of Turkey, at times ignored,
had her sad moment of fame with the brutal murder of Bishop Luigi Padovese
O.F.M. Cap., president of the Turkish Episcopal Conference. In a few words I
would like to close this unpleasant episode by erasing the intolerable slander
circulated by the very organisers of the crime. It was premeditated murder, by
those same obscure powers that poor Luigi had just a few months earlier
identified as being responsible for the killing of Fr. Andrea Santoro, the
Armenian journalist Dink and four Protestants of Malatya. It is a murky story
of complicity between ultra-nationalists and religious fanatics, experts in the
'strategia della tensione'. The pastoral and administrative situation in the
vicariate of Anatolia is serious. … What do we ask of the Church? We simply
ask what we are lacking: a pastor, someone to help him, the means to do so, and
all of this with reasonable urgency. … The survival of the Church of Anatolia
is at risk. … Nonetheless, I wish to reassure neighbouring Churches –
especially those that are suffering persecution and seeing their faithful
become refugees – that the Turkish Episcopal Conference will continue to
welcome them and offer fraternal assistance, even beyond our abilities. In the
same way, we are open to pastoral co-operation with our sister Churches and
with positive lay Muslims, for the good of Christians living in Turkey, and for
the good of the poor and of the many refugees who live in Turkey".