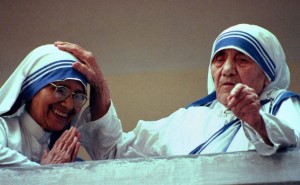 Sister Nirmala Joshi, MC, the woman who succeeded Mother Teresa as the leader of the Missionaries of Charity, in 1997, has died at the age of 81. She had been suffering from a heart condition.
Sister Nirmala was the superior of the order until 2009, when she stepped down because of ill health. Before that she held positions of leadership in the congregation including being a founding member of the contemplative branch of the Missionaries of Charity. Sister Mary Prema Pierick, a German sister, was elected superior general.
Historically, Sister Nirmala was born the second of 10 children on July 23, 1934 to a Nepalese Hindu family in the Bihar state. Her given the name Kusum, meaning flower. Sister graduated with an undergraduate degree from Patna Women's College, administered by Apostolic Carmel nuns and later earned a Master's degree and a law degree.