Whitney Jones for ENI, wrote that "America's Eastern
Orthodox Parishes have grown 16% in the past decade, in part because of a
settled immigrant community according to new research." Her article follows:
Alexei
Krindatch, research consultant for the Standing Conference of the Canonical
Orthodox Bishops in the Americas, said the 16 percent growth in the number of

Orthodox parishes is "a fairly high
ratio for religious groups in the United States," Religion News Service
reports.
The number of Orthodox parishes has reached 2,370, and the Orthodox
community in America consists of more than 1 million adherents across 20
different church bodies, according to the 2010 U.S. Orthodox Census.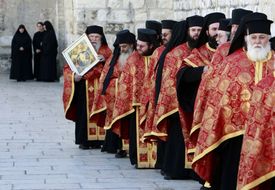 The top
five largest Orthodox churches in the United States are Greek Orthodox
(476,900), Orthodox Church in America (84,900), Antiochian Orthodox (74,600),
Serbian Orthodox (68,800) and Russian Orthodox (27,700).
Two of these church
bodies – the Bulgarian Orthodox Eastern Diocese and the Romanian Orthodox
Archdiocese – experienced a growth rate of more than 100 percent. Both churches
began with a small number of parishes in 2000 and are supported by a community
of established eastern European immigrants.