Pope Francis makes direct connections between what believe and how we live the sacred Liturgy and the sacraments. It is the consistent teaching of Scripture and the Church that the practice of prayer, personal and liturgical (that is, what makes for a vital relationship with God) necessarily spills over to being an alive Catholic. The connection he's making is consistent with what say in liturgical theology about the "lex orandi, lex credendi, lex vivendi" tradition: the law of prayer (and sacraments) tells us what we believe and how we live.
For the 50 days of Easter when the pope gives a teaching it is called the "Regina Coeli Address" but during the rest of the year it is called "Angelus Address" because during Eastertide we pray the Regina Coeli. The Address: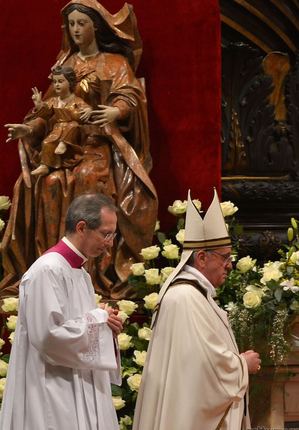 Happy Easter to you all! Thank you for coming today, in such large numbers, to share the joy of Easter, the central mystery of our faith. Let us pray that the power of the resurrection of Christ might reach everyone – especially those who suffer – and every place that is in need of trust and hope.
Christ has conquered evil fully and finally, but it is up to us, to people in every age, to embrace this victory in our lives and in the realities of history and society. For this reason it seems important to point out that today we ask God in the liturgy: "O God, who give constant increase to your Church by new offspring, grant that your servants may hold fast in their lives to the Sacrament they have received in faith." (Collect for Monday in the Octave of Easter).
Indeed, the Baptism that makes us children of God, and the Eucharist that unites us to Christ, must become life. That is to say: they must be reflected in attitudes, behaviors, actions and choices. The grace contained in the Sacraments Easter is an enormous source of strength for renewal in personal and family life, as well as for social relations. Nevertheless, everything passes through the human heart: if I allow myself to be reached by the grace of the risen Christ, if I let that grace change for the better whatever is not good in me, [to change whatever] might do harm to me and to others, then I allow the victory of Christ to affirm itself in in my life, to broaden its beneficial action. This is the power of grace! Without grace we can do nothing – without grace we can do nothing! And with the grace of Baptism and Holy Communion can become an instrument of God's mercy – that beautiful mercy of God.