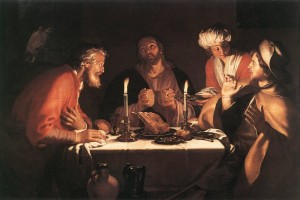 "Were not our hearts burning within us while he spoke to us on the way and opened the Scriptures to us?"
"The Lord has truly been raised and has appeared to Simon!" Then the two recounted what had taken place on the way and how he was made known to them in the breaking of the bread.
The Church gives us this pericope to remind us of the saving events that dramatically brought us to our salvation in the Christ. Can we say that our hearts are on fire with the love of the God who loved us first?