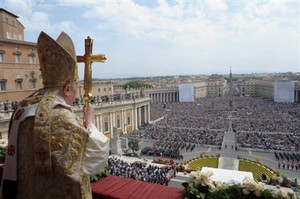 "In
resurrectione tua, Christe, coeli et terra laetentur!
In your resurrection, O
Christ, let heaven and earth rejoice!" (Liturgy of the Hours).
Dear Brothers
and Sisters in Rome and across the world, Easter morning brings us news that is
ancient yet ever new: Christ is risen! The echo of this event, which issued
forth from Jerusalem twenty centuries ago, continues to resound in the Church,
deep in whose heart lives the vibrant faith of Mary, Mother of Jesus, the faith
of Mary Magdalene and the other women who first discovered the empty tomb, and
the faith of Peter and the other Apostles.