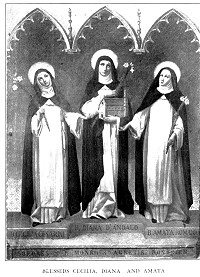 Merciful Lord, we welcome in joy the feast of Blessed
Diana and Blessed Cecilia. With the help of their prayers may devotion to truth
and love for our brothers and sisters fill our hearts and our lives.
Blesseds Diana and Cecilia were among the first women followers of Saint Dominic and among the first members of the Dominican convent in Bologna, Italy. Blessed Diana was the prioress of the monastery and from extant, extensive correspondence with Blessed Jordan of Saxony (Dominic's successor), we see the high regard for the hidden life of prayer and penance of the nuns supporting the endeavors of the friars. The preaching of Truth and the salvation of souls needed to be drawn from a life of holiness. From Blessed Cecilia we know what Saint Dominic looked like and who he was a person. The witness of Blesseds Diana and Cecilia is invaluable for the life of the Order of Preachers. As you may know, the contemplative nuns were founded before Dominic founded the friars because he was convinced that if the preaching apostolates were to be effective they had to be undergirded by prayer and penance. Hence, today is an opportunity to pray for the enclosed Dominican nuns and for vocations to this way of life.