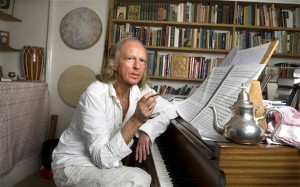 Sir John Tavener, 69, died today. Much of his was spent in ill health, but he was not constrained by limitations of health.  Thanks be to God.
John Tavener is regarded as a "leading light" of our times. Encountering Tavener was surely a gift of God that allowed the soul to soar to new heights.
John Tavener was an Orthodox Christian who wrote a piece at the death of Diana, Princess of Wales.
Tavener was knighted in 2000.
The Telegraph has a brief report and the BBC files this report.
Eternal memory!