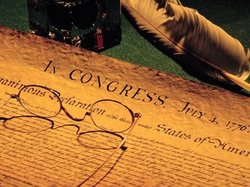 St Thomas Aquinas didn't have a theological opinion on America's Independence for obvious reasons, but he did have at least two thoughts on the virtue of the fatherland and a Catholic's perspective in honoring one's homeland. He sets in clear terms the proper order of our praise for our origins. Aquinas wrote:
"The virtue of
piety helps us pay worship not only to one's father but also to one's
fatherland" (II-II, Q. 102, a3).
And in another place he said, "Our existence and guidance in life come
primarily from God, secondarily from our parents and our native country.
Religion gives expression to the faith, hope and charity which fundamentally
unite us to God; in the same way loyalty expresses the love we have for our
parents and native country" (II-II, Q101, a2).