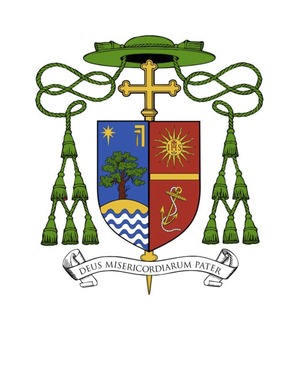 Father Michael Charles Barber, SJ, was ordained a bishop today for service in the Diocese of Oakland. Last eve he professed his Catholic faith and took the oath of fidelity. The Sacrifice of the Mass with the Rites of Episcopal Ordination were offered at 11am pacific time.
With prayer to the Holy Spirit and the laying on of hands by Metropolitan Archbishop Salvatore Cordileone, Jesuit Bishop Carlos Sevilla (emeritus bishop of Yakima) and Bishop Thomas Daly. Sevilla is also a member of the California Province of Jesuits. For trivial purposes only, Bishop Gordan Bennett, SJ, bishop emeritus of Mandeville, former auxiliary bishop of Baltimore, is also a California Jesuit.
Father Barber is the first member of the Society of Jesus to be elected a bishop by his fellow Jesuit and Pope, Francis. The appointment was made on May 3. Barber is the first Jesuit to be a bishop who will serve in the USA since Bishop George Vance Murry (Youngstown, OH).