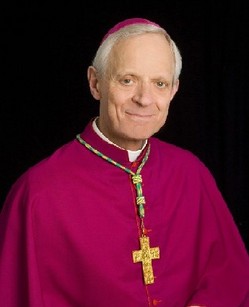 The Archbishop of Washington, Donald W. Wuerl, STD, 70, has been delegated by the Congregation for the Doctrine of the Faith to be the principal guide for those Anglican/Episcopalian clergyman seeking full communion with the Catholic Church, and ordination as a priest.
The USCCB announcement
is posted here
.
The committee headed by Archbishop Wuerl will include their Excellencies, The Most Reverends Kevin Vann, JCD (Fort Worth, TX) and Robert McManus, STD (Worcester, MA). They will be assisted by Father Scott Hurd, himself a convert to Catholicism. The committee will facilitate the implementation of
Anglicanorum coetibus
in the USA and assess the need for an ordinariate in the USA.
The Pope's Apostolic Constitution
Anglicanorum coetibus
can be
read here
.