The Philippines is the most populous Catholic nation in Asia. We ought to be aware that the Catholic faith has been in the Philippines for 5 centuries now!!!!
These days, among the many things Benedict XVI is doing, he's meeting with the Filipino bishops who are praying at the tombs of Saints Peter and Paul, all in an effort to strengthen the bond of unity between the universal Church and the Church in the Philippines. This is the second group of bishops from the Philippines led by Archbishop Palma of Cebu, is in Rome for the ad Limina. A third group will begin their visit on the 21st. Benedict addresses the body the bishops and also meets individually with each bishop. Every 5 years a bishop who heads a diocese is to make a pilgrimage to Rome to pray, to visit with the pope to report on the state of evangelization of the local church and to visit with the various departments at the Holy See. A quinquennial report is sent ahead of a bishop's visit to the Eternal City so that the pope can study the good and areas of need of a particular diocese. It is the expectation that the ad Limina Apostolorum, to the threshold of the Apostles, helps in the transparency in bishop's concern for the salvation of souls. What Benedict told the Filipino bishops today is appropriate for us here in the USA. A portion of the text is given below with my notations for emphasis.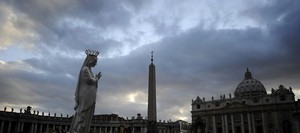 Filipino culture is also confronted with the more
subtle questions inherent to the secularism, materialism, and consumerism of
our times. When self-sufficiency and freedom are severed from their dependence
upon and completion in God, the human person creates for himself a false
destiny and loses sight of the eternal joy for which he has been made. The path
to rediscovering humanity's true destiny can only be found in the
re-establishment of the priority of God in the heart and mind of every person.