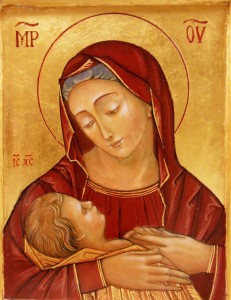 I didn't know that today was the feast day of Our Lady of Providence or Our Lady of Divine Providence until I saw it noted on a friend's FB page. This title given to the Mother of God is a reference to Mary as the Mother of Jesus who lives in relationship with Divine Providence.
As my friend noted, "Devotion to Mary, Mother of Divine Providence began in the first house of the Congregation of the Clerics Regular of St. Paul (Barnabites) in Rome at San Carlo ai Catinari church around year 1611. Around 1580, the Italian painter Scipione Pulzone created a work titled "Mater Divinae Providentiae," which depicted the Blessed Mother cradling the Infant Jesus. This painting was given to the Barnabite religious order in 1663."
"In 1774, Pope Benedict XIV authorized the Confraternity of Our Lady of Providence, a lay organization created for the purpose of promoting special works of Christian charity or piety. Pope Gregory XVI elevated it to an Archconfraternity in 1839. In 1888, Pope Leo XIII ordered the solemn crowning of the "Miraculous Lady" and approved the Mass and Office of Mary, Mother of Divine Providence."
On 5 August 1896, Superior General of the Barnabites Father Benedict Nisser decreed that every Barnabite have a copy of the painting in their home.
For a variety of reasons, this new information is a great "find" for me. I entreat you to call upon Our Lady of Providence right now!