Pope Benedict made the annual visit to Spain's Square, the Spanish Steps as it's known, to lay a wreathe at the Shrine of the Immaculate Conception of the Blessed Virgin Mary, to offer a prayer of filial devotion and to encourage the faithful in our faith. His address follows: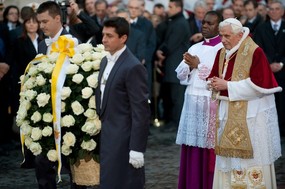 Also this year
we have made an appointment here, in Piazza di Spagna, to render homage to the
Immaculate Virgin, on the occasion of her solemn feast. To all of you, who have
come in great numbers, as well as all those taking part through radio and
television, I address my cordial greeting. We are gathered around this historic
monument, which today is all surrounded by flowers, sign of the love and
devotion of the Roman people for the Mother of Jesus. And the most beautiful
gift, and most pleasing to her, that we offer is our prayer, the one we bear in
our hearts and which we entrust to her intercession. They are invocations of
gratitude and supplication: of gratitude for the gift of faith and for all the
good that we receive daily from God; and supplication for our different needs,
for the family, health, work, for every difficulty that life has us encounter.