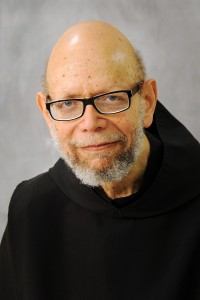 The monastic community of Saint Meinrad announced the death of their confrere, Father Cyprian Davis yesterday. Those of us who are Oblates of Saint Meinrad will recall with great admiration the life and work of this monk and priest of Jesus Christ. Prayers for Dom Cyprian and those who survive him. The official obituary reads:
Fr. Cyprian Davis, OSB, monk and priest of Saint Meinrad Archabbey, St. Meinrad, IN, died on May 18, 2015, at Memorial Hospital in Jasper. He was 84 and a jubilarian of both profession and ordination.
Surviving are a cousin and a niece.
Fr. Cyprian was born in Washington, D.C., on September 9, 1930, to Clarence W. and Evelyn (Jackson) Davis, who named him Clarence John.
He studied at Saint Meinrad Seminary from 1949 to 1956. Invested as a novice monk on July 31, 1950, he professed his simple vows August 1, 1951, and was ordained to the priesthood on May 3, 1956.
Fr. Cyprian received a licentiate in sacred theology from The Catholic University of America in 1957, and the license and the doctorate in historical sciences from the Catholic University of Louvain, Belgium, in 1963 and 1977, respectively.
He was professor emeritus of Church history at Saint Meinrad Seminary and School of Theology, where he had begun teaching in 1963.
He also served as an archivist of Saint Meinrad Archabbey, of the Swiss-American Benedictine Congregation, and of the National Black Catholic Clergy Caucus, of which in 1968 he was a founding member. He also belonged to the American Catholic Historical Association and the Society of American Archivists.
In addition to dozens of articles, book chapters, and encyclopedia and dictionary entries, Fr. Cyprian wrote six books. But it is his 1990 work for which he will be especially remembered. The History of Black Catholics in the United States is a 350-page study of the American Black Catholic experience from the early Spanish explorations to 1970, and it is regarded as the essential study of the American Black Catholic experience.
Among the honors he received for this book were the John Gilmary Shea Award in 1990, and the Brother Joseph Davis Award in 1991. Fr. Cyprian was preparing a revised edition of this work at the time of his death.
In addition, Fr. Cyprian contributed to the second draft of Brothers and Sisters to Us, the 1979 pastoral letter on racism published by the United States Catholic bishops, and he helped write the initial draft of What We Have Seen and Heard, the 1984 pastoral letter on evangelization from the black Catholic bishops.