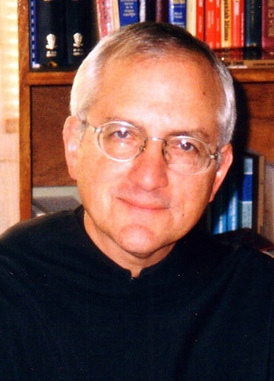 Father John Baptist Brahill, 61, was elected by his confreres of Marmion Abbey (Aurora, IL) to the 5th abbot. Abbot John succeeds Abbot Vincent de Paul Battaille who has served Marmion's abbot for the last 18 years.
The newly elected abbot of Marmion Abbey is a 1967 graduate of Marmion Academy and has been a member of the Benedictine community since 1978 and a priest since 1982.
A little more than a year ago Abbot John returned to Marmion Abbey after serving for many years (1992-2009) as prior of San Jose Priory in Guatemala. Most recently he has served as the master of novices and as the liaison for Abbey Farms.
Abbot John will serve an indefinite term as abbot. The election was confirmed by Abbot Peter Eberle, the Abbot President of the Swiss-American Congregation. He'll receive the abbatial blessing from the Bishop of Rockford, Thomas G. Doran, at some point in the future.
Abbot Vincent has oversee many significant projects at Marmion including the building of the abbey church (St Augustine of Canterbury), various renovation projects at the same and at the Academy. Likewise the community has grown with a number of vocations.
Marmion was settled by monks of Saint Meinrad Archabbey in 1933. The monks of operated a military acdaemy, staffed a few parishes and founded a community of monks in Guatamala at the request of Pope John XXIII who asked religious communities to sacrifice 10% of their community to do missionary work. Since 1965, Guatemala's San Jose Priory educates high school seminarians in the Benedictine spirit.
You may be familiar with the name Marmion, the 19/20th century abbot who is now known as Blessed Columba Marmion. Marmion lived in the years of 1858-1923. Of Irish and French heritage the young Marmion was first ordained a secular priest for the Dublin Archdiocese before becoming a Benedictine monk at the Abbey of Maredsous in Belgium. His gifts recognized Marmion was a founder and later appointed prior of Mont Cesar (Louvain) and later elected abbot of Maredsous 1909, a position he held until his death.
For me, this is amazing series of events because a saintly abbot whose cause for canonization was not begun until 1957 and yet not 10 years after his death Marmion caught the eye of a monk of Saint Meinrad enough to name a monastic foundation for. Now we ask the Lord raise Blessed Columba to sainthood.
You may be interested in viewing the Abbey's vocation video: Introduction, Part 1, Part 2, Fidelity to the Monastic Way of Life, Stability, Obedience and Monastic Priesthood.