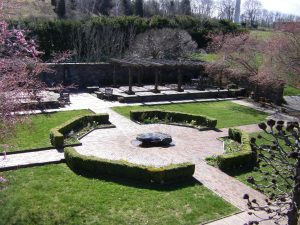 This past week I spent some time Portsmouth Abbey. My time at the Abbey was a beautiful time of grace. Following the rhythm of the house is vital: the silence, personal prayer, communal prayer, reading, Lectio, leisure, conversation, listening, enjoying a meal. While the life of the monks life cannot be romanticized it is worth noting that you grow in awareness in following. The point of this post, however, is digging more deeply into the psalms.
Praying the Divine Office with the monks had me reflecting on importance of the place of the psalms in our lives. When you pray the Office you become very aware of how the day gives God glory and challenges us to attend to reality as it is. The unfolding of the day is God's revelation to us. Psalmody dives into our humanity in a radical way that other literature can not because it is here with the Psalms we speak to God, the Psalms speak to us of Him, and they speak of Jesus, image of the invisible God Who fully reveals the Father's face to us. As Oblates, I believe we need to be real people of the psalms.
The experience of prayer in community, whether with the monks/nuns or with others, you come to see that the Psalms are both personal and communal. As St. Augustine says: "if the psalm prays, pray. If it laments, lament. If it rejoices, rejoice. If it hopes, hope. If it fears, fear. For everything which is written here is a reflection of us." My own experience mirrors what is said by the Church, "the Psalms mirror human emotions and simultaneously reveal God's heart for us."
Psalms express all human experience. Pope Benedict once said, "All the truth of the believer comes together in those prayers, which first the People of Israel and later the Church adopted as a special way to mediate their relationship with the one God, and as an adequate response to His having revealed Himself in history". Thus Christians, by praying the Psalms, pray to the Father in Christ and with Christ, seeing those songs in a new perspective which has its ultimate interpretation in the Paschal Mystery".
At Matins this week we were listening to the Book of Esther and St Augustine's Letter to Proba on prayer.
What is your experience of praying the psalms?
Blessed feast of All Saints!