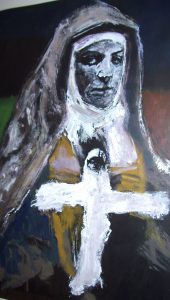 Today in the Latin Church is the commemoration of Carmelite St. Teresa Benedicta – Edith Stein. Addressing himself to the young people gathered for the canonization in 1998, Pope John Paul II recounted the saint's decision to reject a possible "way out"…"Do not do it! Why should I be spared? Is it not right that I should gain no advantage from my Baptism? If I cannot share the lot of my brothers and sisters, my life, in a certain sense, is destroyed."
The image by Father Peter Willm Gray.
St Teresa Benedicta of the Cross, pray for us.