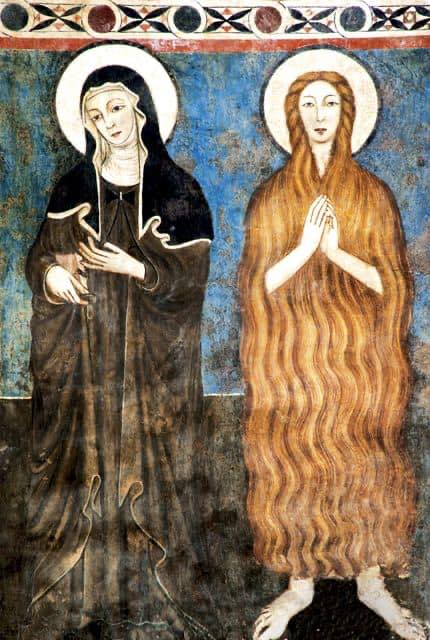 Today, we in the Greek Catholic Churches, honored Mary of Egypt who was a great a sinner; other Byzantine churches on the older calendar will honor her on April 1.
The Canon of St Andrew speaks of the angels being in amazement of her ability to overcome sin and live in grace. Fleeing to the desert she wanted to meet the Living God of mercy and of love. The desert is the place of asceticism and prayer, a place of encounter, a place to give testimony to the ways God continues to create us anew.
In decisive moment she changed her life and went to the hiddenness of the desert. She lived without the sacraments for years. Mary lived a Christian life all the years in the desert without the sacraments in communion with God. Before her death Abba Zosimus brought her the Body and Blood of Christ.
Mary could say that "The word of salvation gently touched the eyes of my heart and revealed to me that it was my unclean life which barred the entrance to me."
This image of St Clare and St Mary of Egypt is telling for us who living in this period of penance: Great Lent and the Coronavirus. They rejected fear, negativity and sin. Both were spouses of the Lord of Life. It is striking to me that the artist linked both these women saints in art because in reality they represent the virtues, especially purity of heart. They both knew the virtue of being united in prayer, fasting and almsgiving.
Image: Church of Santa Maria Assunta in Vallo di Nera, Perugia, Italy