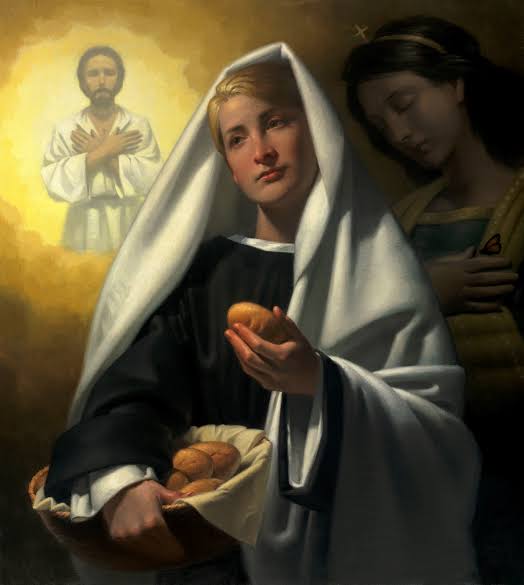 Today is the liturgical commemoration of Saint Frances of Rome, patron saint of the Oblates who live the Rule of Saint Benedict and who strive to serve. She died in 1440.
Along with Frances, we have King Saint Henry, as co-patron saints of the Benedictine oblates. Frances is also revered as the patron saint of motorists and motorcyclists because her path was always lit by her holy guardian angel. Some monasteries have their cars blessed today in memory of Saint Frances of Rome.
In Frances' time in Italy is similar to ours today in that the monasteries are in decline: men and women are not seeking God through the monastic profession and the communal life. Her innovation was to gather women to serve the poor informed and formed by Benedictine spirituality. The Olivetan monks in Rome were helpful.
At first the women continued to live in their homes, but eventually found a house where they could gather and live in community without having to profess monastic vows. The oblate group that Frances for was seen as a hybrid, transforming the medieval practice of children's oblate in monasteries, combining features of monastic life with secular life. At the same time similar groups surfaced and thrived in various places in Europe that became known as tertiaries. In some ways you can see the form of life that Frances had in the ecclesial movements of today, namely, Communion and Liberation and the Manquehue Apostolic Movement.
Frances therefore, created a new way of Benedictine life that was the union of the laity with Benedictine spirituality, grafting into the lives of the secular the call for this vocation in Benedictine life. A spiritual secularity is a gift of God to society and the Church. Unfortunately, what Frances did for the laity of the time didn't gain widespread traction —at least not yet.
Who is interested in this form of life?
In everything may God be glorified.