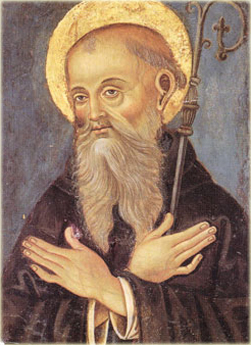 Saint Benedict is a spiritual master who zeros-in on the key spiritual teaching of Christianity: nothing is preferred to the love of Christ. We do this by making a total gift of self, by a life of humility and forgetting self thus putting on the new person.
Saint Bernard's only sermon Benedict says: "His holiness will preach to us, his offering of himself instructs us, his justice encourages us."
Benedict and the charism he has bequeathed to us is demonstrated in one's attention to the sacred Liturgy, an emphasis on charity and the practice of unconditional hospitality. All this leads to a peace that never fails.
The Rule of Benedict has the dimension of living in fraternal context. This was one of the points that the Cistercians promoted in their Charter of Charity of 900 years ago by Saint Stephen Harding, it is also the emphasis of many educational enterprises, religious and ecclesial communities, e.g., Communion and Liberation.
On this feast of Saint Benedict, let us listen attentively to the Lord and to the Rule of this Man of Blessing.