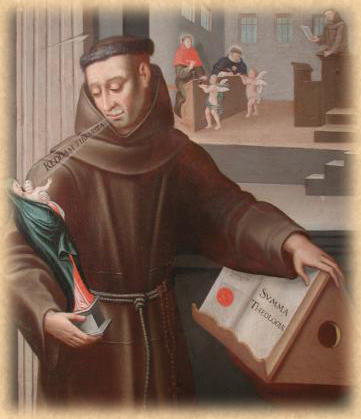 Drawing on the work of John Duns Scotus, Pope Pius IX solemnly defined the Immaculate Conception of Mary in 1854. John Duns Scotus, the "Subtle Doctor," was beatified in 1993.
With the Latin Church we pray, Lord God, source of all wisdom, in Blessed John Duns Scotus, priest and champion of the Immaculate Virgin, you have given us a master of life and thought. Grant that enlightened by his example and nourished by his doctrine, we may remain faithful followers of Christ, who lives and reigns with you and the Holy Spirit, one God, forever and ever.
I am grateful to J. Michael Thompson for alerting me to a comment made by Father Charles Balic, O.F.M., the foremost 20th-century authority on Scotus, who wrote: "The whole of Scotus's theology is dominated by the notion of love. The characteristic note of this love is its absolute freedom. As love becomes more perfect and intense, freedom becomes more noble and integral both in God and in man" (New Catholic Encyclopedia, Vol. 4, p. 1105).
In another place it is said, "Intelligence hardly guarantees holiness. But John Duns Scotus was not only brilliant, he was also humble and prayerful—the exact combination St. Francis wanted in any friar who studied. In a day when French nationalism threatened the rights of the pope, Scotus sided with the papacy and paid the price. He also defended human freedom against those who would compromise it by determinism."
Today when thinking is at an all-time-low, especially in the Church, it may be worth our time to remember that "Ideas are important. John Duns Scotus placed his best thinking at the service of the human family and of the Church."