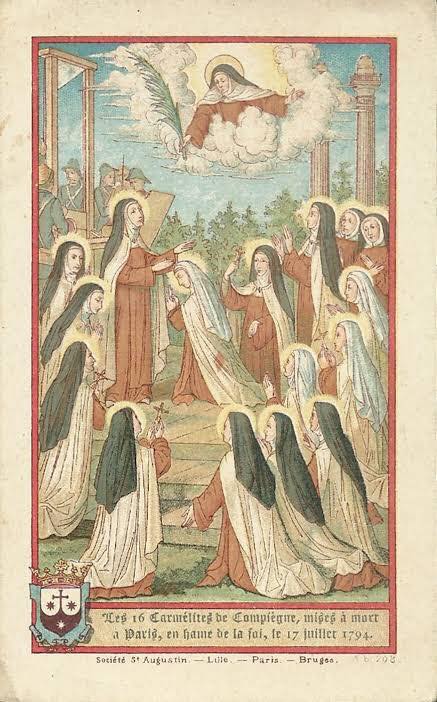 I didn't know of the Carmelite Martyrs of Compiègne until several years ago when a friend of mine, Father Ambrose, gave me a tutorial these great nuns. For him, the death of these Carmelites are an example of demise of the Gospel in culture and in the personal life the baptized. The courage and faithfulness of the nuns in the face of terrifically sinister men is quite striking. In every period of time, martyrdom always seems to catch the heart. Here is another example of the persecution of Christians.
Another friend, Jeffrey said the following:
The anniversary of the Carmelite Martyrs of Compiègne, interestingly falling so close on the heels of Bastille Day, a reminder, perhaps that we must resist similar movements in our present age. One of these martyrs wrote eloquently, not long before their execution, and we can live by these words today, as it puts things in proper perspective.
"We are victims of our century and we must sacrifice ourselves that it be reconciled to God. An eternity of happiness awaits me. Let us hasten then, let us run toward that end and suffer willingly during the brief moments of this life. The storm rages today, but tomorrow we shall reach the harbor"
~Sister Julie Louise, Carmelite martyr of Compiegne.