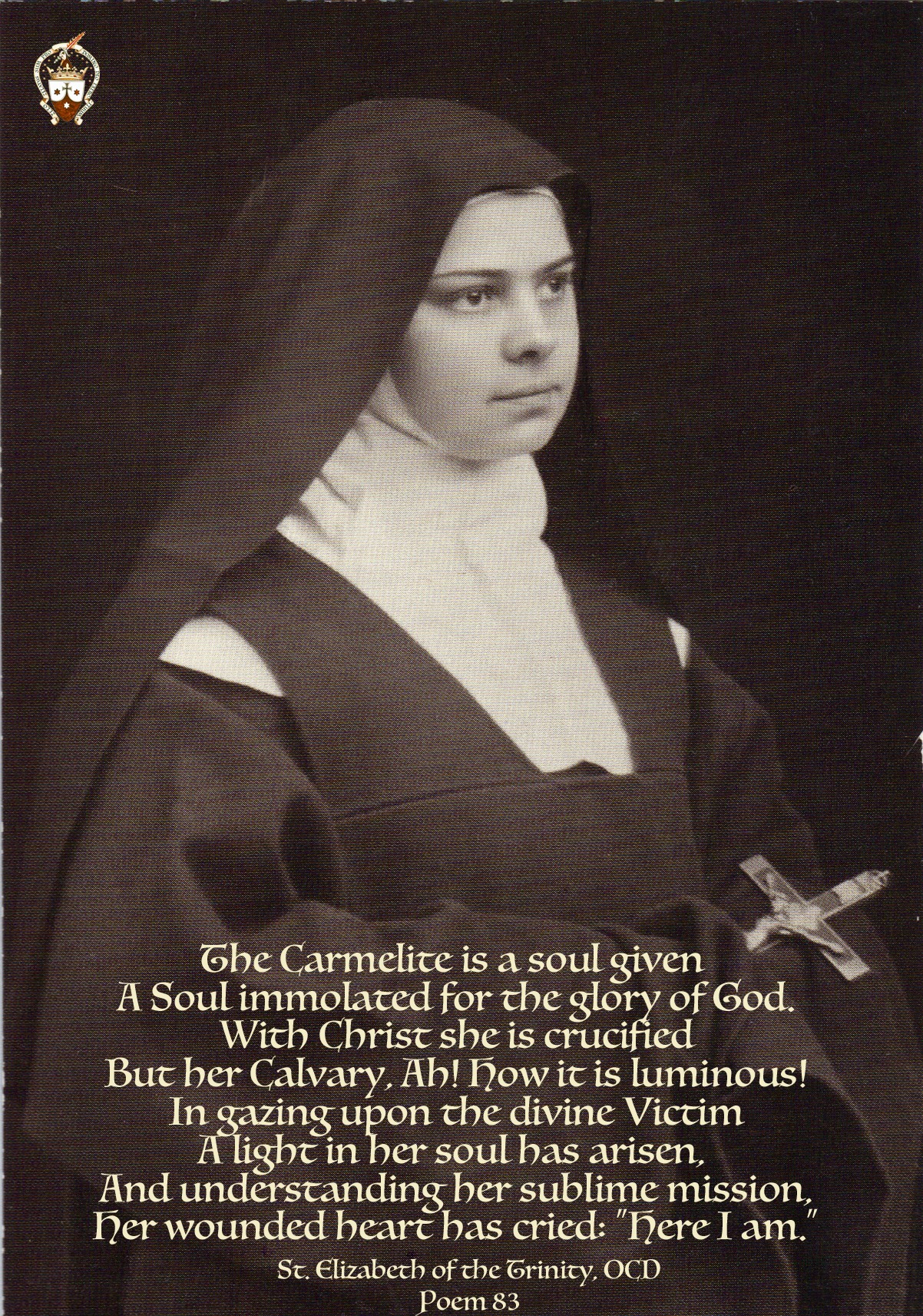 A very Happy Feast of St. Elizabeth of the Trinity! In this longer post we wanted to share a little about Carmel's newest saint for those who don't know her and then also share an except from one of her beautiful letters. "Laudem Gloriae"!
Saint Elizabeth was born as Elizabeth Catez on July 18, 1880, in a military camp near Bourges. Her mother gave birth just at the end of the Holy Sacrifice of the Mass which her father, Captain Catez, had arranged to have offered for his wife and child, whom he feared he was losing during a difficult delivery. At the age of two, she was taken to Dijon where her father had been transferred and there St. Elizabeth had the joy of gaining a little sister when Marguerite was born on February 20, 1883.
St. Elizabeth was difficult and temperamental as a child and very hard to manage. Her mother persevered in loving yet strict discipline. It was Jesus, however, who provided in her first sacramental confession the grace she needed to grow. After that great event which profoundly affected the saint her efforts at self-control began to bear fruit.
April 19, 1891, she made her First Holy Communion. Tears of happiness poured down her face. To a little friend she whispered as they left Holy Mass: "I'm not hungry; Jesus has fed me."
That evening her mother took her to the Carmel and the Prioress told her that "Elizabeth" meant "the house of God." The meaning of her name took root in her soul. In time, the Mystery of the Divine Indwelling became the central theme of her entire spiritual life.
Her entrance into Carmel was delayed for quite some time because of the great reluctance of her widowed mother, for she did not wish to give up her beloved daughter. Finally, St. Elizabeth was permitted to enter at the age of twenty-one on August 2, 1901. On December 8, 1901, she received the habit, and she made her profession on the feast of the Epiphany, January 11, 1903.
Eight days after entering Carmel, St. Elizabeth and the nuns discussed religious life at recreation. When asked what her ideal of sanctity was, she replied: "to live for love" Pressed further as to how she would attain her ideal, she answered: "I would endeavor to become very little and give myself irrevocably."
St. Elizabeth of the Trinity lived her Carmelite life with great fidelity, entering ever more deeply into the mystery of the indwelling Trinity. In Saint Paul, she found her "new name", "Laudem Gloriae" that is, "the praise of His glory."
In early 1903, she began to show the first signs of Addison's disease. In Lent of 1906 she became so ill that she was moved to the infirmary.
St. Elizabeth endured her great sufferings with joy and with heroic fortitude. She died, only twenty-six years of age, on November 9, 1906, the Feast of the Dedication of the Lateran Basilica, her last words being: "I am going to light, to love, to life."
St. Elizabeth was canonized on 16 October 2016.
The following is an excerpt from Letter 185 to l'Abbé Chevignard dated 28 Nov 1903.
"Monsieur l'Abbé,
Thank you for your good prayers, thank you for your letter. What you tell me about my name does me much good; I love it so much, it expresses my entire vocation; when I think of it my soul is carried away in the great vision of the Mystery of mysteries, in the Trinity that even here below is our cloister, our dwelling, the Infinite within which we can pass through everything. At the moment I am reading some very beautiful pages in our blessed Father Saint John of the Cross on the transformation of the soul in the three Divine Persons. Monsieur l'Abbé, to what an abyss of glory we are called! Oh! I understand the silence, the recollection of the saints who could no longer leave their contemplation; thus God could lead them to the divine summits where union is made perfect between Him and the soul who has become His bride, in the mystical sense of the word. Our blessed Father says that then the Holy Spirit raises it to so wonderful a height that He makes it capable of producing in God the same spiration of love that the Father produces in the Son and the Son in the Father, the spiration that is the Holy Spirit Himself! To think that God calls us by our vocation to live in this holy light! What an adorable mystery of charity! I would like to respond to it by living on earth as the Blessed Virgin did, "keeping all these things in my heart," burying myself, so to speak, in the depths of my soul to lose myself in the Trinity who dwells in it in order to transform me into itself. Then my motto, "my luminous ideal" as you said, will be accomplished: it will really be Elizabeth of the Trinity!"
May we all grow in the loving awareness of and be transformed in Love by the indwelling of the Most Holy Trinity! Happy Feast!
(courtesy of the Discalced Carmelites, Washington Province)