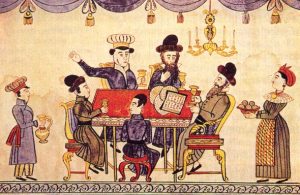 Lazar Berman's essay published today on The Times of Israel, "'Trying to undo history": A Catholic scholar reflects on Christian Seders".
Berman and Fr. Murray Watson discuss the reality of the Seder and illustrate why it is inappropriate for Christians to do something so out of context from the their religious experience.
I have long been opposed to Christians performing the Jewish Passover Seder. In fact, I have used the words "outrageous" to express my dismay. Christians who do so, in my considered opinion, are very presumptuous and not too educated in the theology undergirding the Seder and the difference Baptism and belief in Jesus makes for the Christian. Recall that Jesus is the NEW Passover, something rejected by Jews.
In faith, we share some important beliefs with Jews; we should respect their developed theology as they should respect ours. Theological and cultural barbarisms avoided.
If a Christian wants to experience a Seder then that person ought to do the study required to understand AND swing an invitation from a Jewish household to participate in a Passover Seder. Set time aside to sit back and thoughtfully consider educative value of the experience and see know your theology! I appreciate what Berman and Watson are saying. We ought to attend.