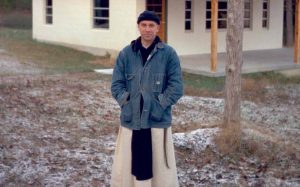 Today in 1915 Prades, France, Thomas Merton was born. The famous monk of the Cistercian Order of the Strict Observance (the Trappists), was known in his monastery as Father Louis. The Merton genealogy includes an American mother and a father from New Zealand. Artists, both died early; Merton's mother died of stomach cancer when he was six years old; 10 years later, his father died of a brain tumor. His early life was wild and seemingly of out of control.
Having met the Lord, Thomas Merton converted to Catholicism in 1938, while he was a student at Columbia University, at Corpus Christi Church on 121st, NYC. Perceiving a call to the contemplative life after the Franciscans rejected him, he entered the Trappist Abbey in Kentucky; Thomas initially gave up his writing career yet it was Abbot Frederic Dunne who recognized his talent noting that it was helpful in bringing others to Christ, he missioned Merton to write.
Thomas Merton once wrote: My Lord God, I have no idea where I am going. I do not see the road ahead of me. I cannot know for certain where it will end. Nor do I really know myself, and the fact that I think I am following your will does not mean that I am actually doing so. But I believe that the desire to please you does in fact please you. And I hope I have that desire in all that I am doing. I hope that I will never do anything apart from that desire. And I know that if I do this you will lead me by the right road, though I may know nothing about it. Therefore I will trust you always though I may seem to be lost and in the shadow of death. I will not fear, for you are ever with me, and you will never leave me to face my perils alone.
Thomas Merton
Thoughts in Solitude, p. 83