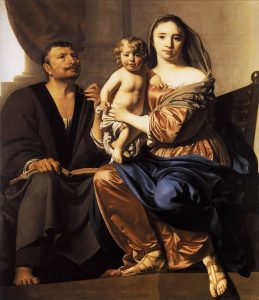 Not sure how much any one of us attend to the doctrine and liturgical feast of the Holy Family Nazareth. My suspicion is that unless prompted to pray to the Holy Family, we don't. I admit that I don't invoke their patronage too often. But, I will start. There is something important herewith the Holy Family that we all ought to attend to. Consider this excerpt from the Second Reading in the Office of Readings for today's Feast of the Holy Family:
"Put on, as God's chosen ones, holy and beloved, heartfelt compassion, kindness, humility, gentleness, and patience,
bearing with one another and forgiving one another,  if one has a grievance against another; as the Lord has forgiven you, so must you also do. And over all these put on love,  that is, the bond of perfection."
Holy Family of Nazareth, pray for my family, indeed for all Christian families.