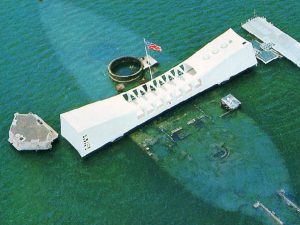 Today is the 75th anniversary of the attack on the USA by the Japanese. At Pearl Harbor, December 7, 1941, in Honolulu, Hawaii,  a total of 2,403 Americans were killed with an additional 1,178 wounded. The air attack happened at 7:55 a.m. Hawaii time on a sunny Sunday. It is said that this was the final event that led to United States involvement in World War II.
We need to pray for peace; let us pray for the souls who died in this attack of 1941. War is always a defeat.
Let us pray.
Lord God,
your own Son was delivered into the hands of the wicked,
yet he prayed for his persecutors
and overcame hatred with the blood of the Cross.
Relive the sufferings of the innocent victims of war;
grant them peace of mind, healing of body,
and a renewed faith in your protection and care.
Grant this through Christ our Lord.