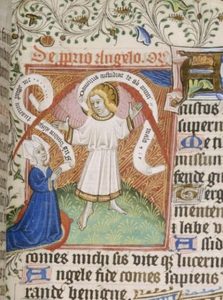 October 2nd is the day to commemorate the Guardian Angels. While it is a Sunday, the feast gets trumped by the Sunday observance.
The teaching we hold dear about the Guardian Angel is that an angel is (a created, non-human, non-corporeal being) that has been assigned to guard a particular person, with concern for that person to avoid spiritual and physical dangers and work out one's salvation. The Directory on Piety and the Tradition of the Church says serenity and confidence in facing difficult situations, since the Lord guides and protects the faithful in the way of justice through the ministry of His Holy Angels.
In sacred Scripture, the Prophet Daniel speaks of Michael as "the great prince who has charge of your [Daniel's] people" (Dan. 12:1). Michael is depicted as the guardian angel of Israel.
Saint Matthew's Gospel speaks of Jesus talking about are guardian angels for all persons, particularly little children. He says: See that you do not despise one of these little ones; for I tell you that in heaven their angels always behold the face of my Father who is in heaven (Matt. 18:10).
'A prayer to the good angel'
O sweet angel, to me so dear,
Who night and day standeth me near
Full lovingly, with mild mood, [gentle mind]
Thanks, honour, love and praising,
Offer for me to Jesu, our king,
For his gifts great and good.
As thou goest betwixt him and me,
And knowest my life in every degree,
Telling it in his presence,
Ask me grace to love him truly,
To serve my Lord with heart duly,
With my daily diligence.
Keep me from vice and all perils,
While thou with me daily travels
In this world of wickedness;
Cause my petitions to be granted
By thy prayer daily haunted,
If it please thy holiness.
O sweet angel, who keepest me,
Bring me to bliss, I pray thee!
From the manuscript from which this prayer comes we can note that it was in a volume owned by Margaret Beauchamp, the Duchess of Somerset, mother of Margaret Beaufort, and grandmother of Henry VII.
Religious Lyrics of the XVth Century, ed. Carleton Brown (Oxford, 1939)