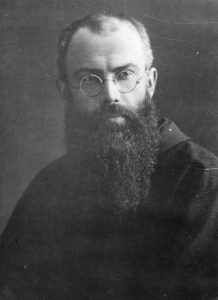 With the Church we pray:
O God, who filled the Priest and Martyr Saint Maximilian Kolbe with a burning love for the Immaculate Virgin Mary and with zeal for souls and love of neighbor, graciously grant, through his intercession, that, striving for your glory by eagerly serving others, we may be conformed, even until death, to your Son.
An excerpt from a letter by the saint:
Obedience is the one and the only way of wisdom and prudence for us to offer glory to God. If there were another, Christ would certainly have shown it to us by word and example. Scripture, however, summed up his entire life at Nazareth in the words: He was subject to them; Scripture set obedience as the theme of the rest of his life, repeatedly declaring that he came into the world to do his Father's will. Let us love our loving Father with all our hearts. Let our obedience increase that love, above all when it requires us to surrender our own will. Jesus Christ crucified is our sublime guide toward growth in God's love.
We will learn this lesson more quickly through the Immaculate Virgin, whom God has made the dispenser of his mercy. It is beyond all doubt that Mary's will represents to us the will of God himself. By dedicating ourselves to her we become in her hands instruments of God's mercy even as she was such an instrument in God's hands. We should let ourselves be guided and led by Mary and rest quiet and secure in her hands. She will watch out for us, provide for us, answer our needs of body and spirit; she will dissolve all our difficulties and worries.
From a letter of Maximillian Mary Kolbe
(Scritti del P. Massimiliano M. Kolbe, Italian translation, vol. I, pt, 1 [Padua, 1971], 75-77, 166)