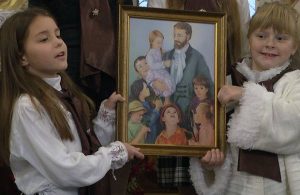 Blessed Edmund Bojanowski (1814-1871) is a rather unique person of faith: he died before entered seminary education complete and he founded 4 congregations of women religious. Blessed Edmund is a stellar example of being a holy layman building up the Kingdom of God, the Mystical Body of Christ.
Edmund Bojanowski was from a wealthy Polish family; he studied literature at a time when literature and music were well regarded at universities in Breslau (modern Wroclaw, Poland) and Berlin, Germany. His intellect work included translating works from Serbia to Polish, wrote his own poetry, and a history of Serbia.
Bojanowski was known for his love of God and Our Lady above all else. In many ways he is a great model of what Pope Francis teaches about being protagonists in the work of mercy. While another blessed of the Church has the title of "Man of the Beatitudes", a case can be made for Blessed Edmund having the same.
His Christian formation, in part, was as a member of the St. Vincent de Paul Society in Poland. Another aspect of his formation is devotion to Lectio Divina (meditated daily on Sacred Scripture), went to Confession weekly, and made his annual retreats making the Spiritual Exercises of St. Ignatius of Loyola. As a consequence of meeting Jesus Christ, Edmund dedicated his whole life to the service of abandoned children, the sick, the poor, and those in greatest need.He dedicated his life to the service of abandoned children, the sick, and poor, teaching and spending his fortune in the service of the needy.
He founded reading rooms and libraries to provide books and education to the poor, and started the first day-care centers in the country. He funded assistance for the sick, supported orphanages, and worked in both himself.
Founded the Sisters Servants of Mary Immaculate, the Sisters Handmaids of the Holy and Immaculate Virgin Mary, the Little Servant Sisters of the Immaculate Conception, and the Sisters Handmaids of the Mother of God, Virgin Immaculate Conception; together their 3,300 sisters continue the work around the world. Two years before his death Edmund entered he entered the seminary in Gniezno, but did not survive long enough to graduate or be ordained.
The last will of Edmund Bojanowski to his Sisters was the recommendation of the blessing of simplicity and communal love. John Paul II declared him Blessed in Warsaw on June 13, 1999. At this time the Pope said he
is remembered as a good man with a big heart, who for love of God and neighbor was able to bring different sectors together, effectively rallying them around a common good. In his many-faceted activity, he anticipated much of what the Second Vatican Council said about the apostolate of the laity. His was an exceptional example of generous and industrious work for man, the homeland and the church.