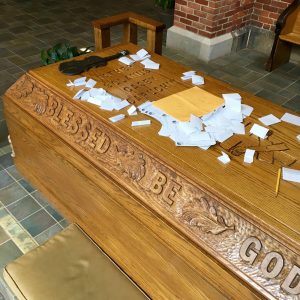 Today is the anniversary of death for Venerable Servant of God Father Solanus Casey.
The Sacrifice of the Mass was offered at the Capuchin Shrine in Detroit where his tomb exists. The Archbishop of Detroit, Allen H. Vigneron, offered Mass.
Father Solanus Casey, was born November 25, 1870, on a Wisconsin farm, joined the Capuchin friars in 1896 and ordained priest on July 24, 1904.
Prayers for the beatification of Father Solanus Casey.