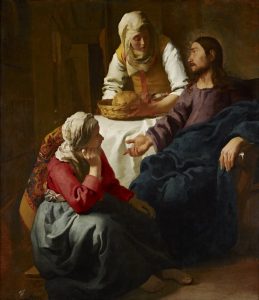 Today, on the Novus Ordo liturgical calendar the Church recalls St Martha. For Benedictines, today we seek the help of Saints Martha, Mary and Lazarus, Hosts of the Lord. All three are not only disciples of the Lord but are true friends. In the Benedictine tradition Saints Martha, Mary and Lazarus are venerated as living Saint Benedict's mandate of hospitality: "Let all guests be received as Christ, for He will one day say, I came as a guest and you welcomed me." (RSB 53:1). For this reason, one Benedictine Lectionary proposes the story of Abraham and Sarah extending hospitality.
In a time when hospitality is not a value, the Benedictine tradition gives us this feast of Saints Martha, Mary, and Lazarus to keep our hearts focussed on the practice hospitality. "Behold," says the Lord, "I stand at the door and knock; if any one hears my voice and opens the door, I will come in to him and eat with him and he with me" (Rev. 3:20).
What we see in these saints we see first in the Eucharistic hospitality of God at the altar. Just as Martha, Mary and Lazarus opened the door to Jesus and made room for him, there is room for all of us at the temple of God where we are invited in to hear the Word and receive his gifts of Life.
May we learn what it means to be hospitable. Can we sit at the foot of the Master like Mary at the Eucharistic banquet and receive his mystical body and blood, or be a penitent like Lazarus or to set aside the anxieties of this world? Can we leave the anxieties of life to bring our entire humanity to the Lord through the transparency of prayer?