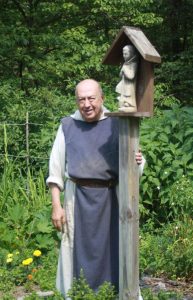 Outside Poughkeepsie, NY there is a Benedictine Hermit, Brother Victor-Antione d'Avila Latourrette who lives his vocation with intensity. His residence is called Our Lady of the Resurrection Monastery.
You may know Brother Victor from his various books, including "Twelve Months of Monastery Soups", "From a Monastery Kitchen: The Classic Natural Foods Cookbook" and "Sacred Feasts: From a Monastery Kitchen" among others.
He is quite the monk and son of St Benedict.