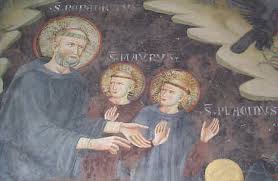 Ealing Abbey AND the Tyburn Monastery to host conference on Benedictine Lay Movements and Communities
The monastic spirituality forum – Community of Nazareth – will be hosting a conference on contemporary Benedictine lay movements and communities at Ealing Abbey on the 11th of June 2016. The conference will explore the values, mission and outreach of Benedictine movements. A number of groups will be participating in the event: Manquehue Movement, Lay Community of St Benedict, Community of St Aelred, Subiaco Walsingham, Monos and NazarethW5. 
The day will commence by joining the monastic community at their conventual mass at 9.15. The conference will begin at 10.15 with each group explaining its particular mission and how its transmits monastic values to others. There will be discussion about the nature of those groups and movements: residential communities, dispersed communities, e-communities and social media. There will also be talks examining Benedictine witness, in particular looking at the lives of Bl Gabriella of Unity and the Tibhirine martyrs. The day will conclude by joining the monastic community for vespers at 5.30.
Talks and papers will be available via the website (www.communityofnazareth.com) SoundCloud (Community of Nazareth) and twitter (@NazarethW5).