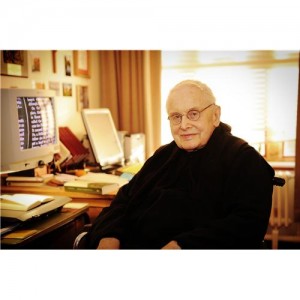 Yesterday morning at Ampleforth Abbey, Abbot Patrick Barry made his transitus to the Lord of Life. Liturgically, it was a perfect day: it was the Transfiguration of the Lord and the feast of Saint Peter Damian. Two great poles of a monk in love with Christ. Abbot Patrick was 99, 81 years a monk, and 71 years a priest.
Requiem aeternam dona ei, Domine, et lux perpetua luceat ei.
Father Patrick Barry served as Abbot of Ampleforth from 1984 to 1997. He was re-elected by the monastic community to be abbot in 1992 for a period of eight years. I first met in 1997 when he went to St Louis to assist the Benedictine Abbey there in the teaching of our monks in formation.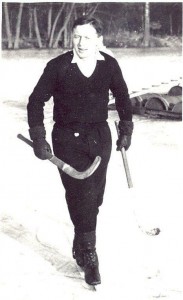 The holy Abbot once wrote of the Holy Rule of Benedict: "The Rule Saint Benedict wrote is not well understood unless its end and purpose are seen to rest in Christ himself, whose gift is eternal life and whose love must be counted as more important than anything else in the life of a monk." I am convinced that Abbot Patrick's life coalesced around this central fact of the Faith: the journey to meet the Trinity in Eternal Life. Everything seemed to orbit Saint Benedict's call to us in our longing, our hungering, for eternal life. Abbot Patrick lived this experience with great spiritual intensity.
Two special gifts I cherish: knowing and learning from Abbot Patrick the years I lived in St Louis and following when I would visit St Louis Abbey. The second gift, is a copy of his translation of the Rule of St Benedict.
May we meet again in the love of Jesus Christ, our Lord and Savior.
UPDATE: The Telegraph (of the UK) published this obit of Abbot Patrick Barry, OSB.