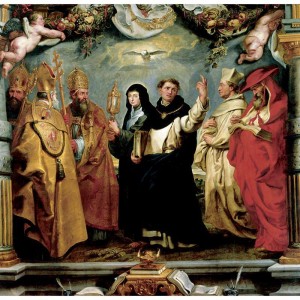 The Church in the Ordinary Form gives us for today the feast of the great Dominican saint and theologian Thomas Aquinas, Doctor of the Church. He stands head and shoulders over all of our thinkers.
Saint Thomas' great love passed down to us is the Holy Eucharist. Aquinas wrote many Eucharistic hymns especially for the Feast of Corpus Christi, whose observance had been urged by the Premonstratensian canoness Saint Juliana of Liege.

In this image by Peter Paul Rubens, the 'Defenders of the Eucharist' we have Saint Thomas with Saints Augustine and Norbert.