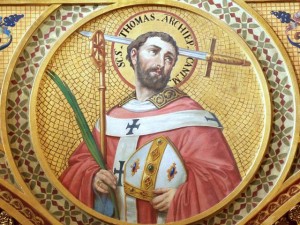 As Becket's biographers have noted,
"A few words which the capricious Henry spoke to certain courtiers who hated Thomas, sufficed for the latter to decide to do away with the prelate who contravened all their unchristian doings. They violated a monastic cloister and chapel to enter there while he was assisting at Vespers; the Saint himself prevented the monks from resisting the assassins at the door. Refusing to flee the church as the assassins summoned him to do, he was slain before the altar, by cruel and murderous repeated blows on the head. He died, saying: I die willingly, for the name of Jesus and for the defense of the Church.
"The actions of the Pope in this conflict make clear what all of history teaches: the lives of the Church's Saints themselves comprise the history of the world. The humility of Thomas had prompted him, after a moment of weakness he had manifested in a difficult situation, to judge himself unfit for his office and offer his resignation as Archbishop. The Pope did not hesitate a moment in refusing his resignation. He judged with apostolic wisdom that if Thomas should be deprived of his rank for having opposed the unjust pretensions of the English royalty, no bishop would ever dare oppose the impingements of iniquity on the Church's rights, and the Spouse of Christ would be no longer sustained by marble columns, but by reeds bending in the wind."
Archbishop Thomas Becket was canonized by Pope Alexander III on Ash Wednesday, 1173, barely three years after his death on this date in 1170. Let us pray for Becket's guidance and intercession before the Throne of Grace for 2016.