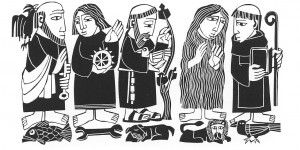 Saints are the fruits of the Holy Eucharist. Holy men and women extrovert the grace of Communion and say to us that living the Gospel is possible and reasonable. In Mane nobiscum, Domine, Pope Saint John Paul writes:
We have before us the example of the Saints, who in the Eucharist found nourishment on their journey towards perfection. How many times did they shed tears of profound emotion in the presence of this great mystery, or experience hours of inexpressible "spousal" joy before the sacrament of the altar!
Today is also the day on which Saint John Paul II was ordained to the priesthood of Jesus Christ 69 (1 November 1946). In the twenty-six years of being the Roman Pontiff, John Paul gave us more than 1,300 blessed and 480 saints.