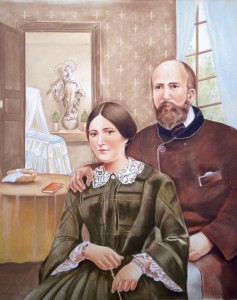 Saints Louis and Zélie Martin are models of holiness for us today, especially for families. The Martins were married in Alencon, France, in 1858 and gave to history nine children. Zélie Martin died of cancer in 1877, at the age of 45 and Louis died when in 1894, at 70 years.
Pope Francis canonized Louis and Zélie today and beatified in 2008.
Saints Louis and Zélie are the parents of St. Thérèse of Lisieux and another daughter and candidate for sainthood, Léonie  Martin, who became Sister Françoise-Thérèse of the Monastery of the Visitation at Caen.
Angelo Cardinal Amato, Prefect of the Congregation for the Causes of Saints, described Louis and Zélie Martin as "an extraordinary witness of conjugal and family spirituality."
At the wish of Pope Francis the faithful were invited to pray before the mortal remains of the new saints at the Basilica of St. Mary Major.
Saints Louis and Zélie model for us the vocation of Catholic parents. Despite many difficulties and sufferings they persevered and kept strong faith. In an age when so many families suffer, let us pray for the strengthening of families.