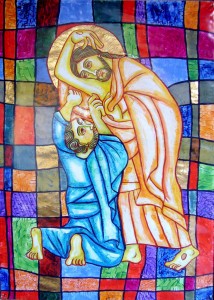 On this Octave Day of Easter we hear the Gospel of Doubting Thomas. For a long time we've used the phrase "Doubting Thomas" to portray the Apostle's lack of belief. But I wonder if it is accurate to say Thomas doubted. And his words are more than a "trust but verify" philosophy.
I think we need to recall the revolutionary action of the Divine Majesty in resurrecting someone from the dead. Certainly we can point to Lazarus' coming back from clutches of death but with Jesus' resurrection from the dead there is something new, something truly never seen before: a glorified body. His body totally transfigured in the way it was on Mount Tabor and his wounds still present as a keen memory of the love-act that the Passion is. However, the resurrection from the dead is the gift based on our availability, that is, our complete openness, our yes, to the infinite possibility (meaning, the willingness to consider that there might be another way than the way humans generally conceive of life) which demonstrates that the mind and heart of man and woman may be regenerated by God the Father.
Thomas reveals a depth of person who did not deny but used his reason to verify what the Lord proposed. In freedom, Thomas approaches Jesus, now the Christ, encounters Him in a totally and intimate manner. If you notice, all of the apostles, including Mary Magdalen, had a particular relationship with Christ. For me, therefore, the gospel pericope on Saint Thomas is less about doubt (a complete rejection) than about a recognition of what Jesus said of Himself: I am the Way, the Truth, and the Life. A doubt is a question that is looking for certitude, for guidance, for true religion. Humans need the tangible to open the door to the mystical. Touching the Lord's wounds is about the recognition. Here Thomas helps all others including the apostles. His mission is to tell the world about this new in-breaking into the world: God's breaking death's grip on humanity.
Pope Francis said today, "Jesus invites us to behold these wounds, to touch them as Thomas did, to heal our lack of belief. Above all, he invites us to enter into the mystery of these wounds, which is the mystery of his merciful love."
From St. Cyril of Alexandria's Commentary on John's Gospel:
"As always, Christ has to be patient with Thomas when he said he would not believe and with the other disciples too when they thought they were seeing a ghost. Because of his desire to convince the whole world, he most willingly showed them the marks of the nails and the wound in his side; because he wished those who needed such signs as a support for their faith to have no possible reason for doubt, he even took food although he had no need for it."