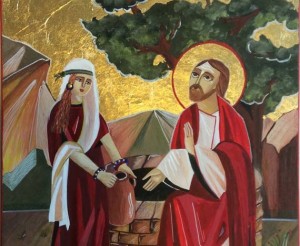 In many parishes with an active and faithful Rite of Christian Initiation of Adults (RCIA) program you would have celebrated the first  of three scrutiny rites. The gospel reading would have been the story of the Woman at the Well. This particular bible narrative shows the intimacy and mercy of God in the life of a woman in great need. The gaze of Christ is what heals because he names the sin and disorder, calls the woman to drink of refreshing water and heals her name.
A scrutiny is a liturgical rite of the Church which occurs on the Third, Fourth, and Fifth Sundays of Lent. Those receiving Baptism, Confirmation and Eucharist would participate in these rites at the Sunday Eucharist. The scrutinies lead all of us to a deeper change-of-life by looking at oneself and working on repentance of sin. There are special prayers of exorcism. We typically think of an exorcism for those who are possessed by the devil in some outrageous way. But an exorcism is used to be delivered from evil, sin, weakness of will and mind, and disorder. All sin needs to be exorcised; sin comes from the devil.
The rites of exorcism are meant for healing and turning the person from sin so that the person can live in the light. The goal is to set one's life aright with God. No good Christian can be in relationship with God and with Satan. Hence, the rites of the RCIA scrutinies aim is to deepen their resolve to hold fast to Jesus Christ, and to give definition to their decision to love God above all things for all time. Likewise, the scrutinies hope to protect those preparing for Easter Sacraments against temptation, and to give them strength in Jesus Christ.
The prayer of the Church is for a true conversion of life for the sake of the Gospel during this Lenten season.