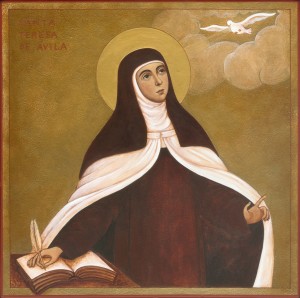 Saint Teresa of Avila, Doctor of the Church, turns 500 today. Teresa is one of the most remarkable women of the Church who stood up to the bankruptcy of many churchmen in order to follow the command of the Savior "to rebuild my Church." She was not only brilliant thinker and teacher, a reformer but she was an intense lover of Jesus. And from this posture, she is able to touch souls.
Several quotes come to mind:
" Accustom yourself continually to make many acts of love, for they enkindle and melt the soul."
"You pay God a compliment by asking great things of Him."
"There's a time for partridge and a time for penance."
"God has been very good to me, for I never dwell upon anything wrong which a person has done, so as to remember it afterwards. If I do remember it, I always see some other virtue in that person."
"Christ has no body now, but yours.
No hands, no feet on earth, but yours.
Yours are the eyes through which
Christ looks compassion into the world.
Yours are the feet
with which Christ walks to do good.
Yours are the hands
with which Christ blesses the world."
"A sad nun is a bad nun," Teresa said. "I am more afraid of one unhappy sister than a crowd of evil spirits….What would happen if we hid what little sense of humor we had? Let each of us humbly use this to cheer others."
"Mental prayer in my opinion is nothing else than an intimate sharing between friends; it means taking time frequently to be alone with Him who we know loves us."
"Let nothing disturb thee;
Let nothing dismay thee:
All thing pass;
God never changes.
Patience attains
All that it strives for.
He who has God
Finds he lacks nothing: God alone suffices."