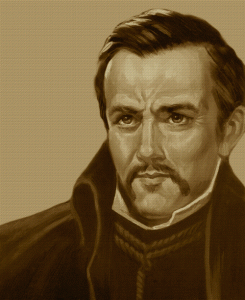 St. John Ogilvie, by your devotion to Christ you held fast to the faith, even unto martyrdom.  With the grace of God, may I have a loving heart in the midst of trials.  May I, like you, "be of good cheer" and trust in the love of God. 
Today the Church in Scotland and the Society of Jesus celebrates the feast of Saint John Ogilvie commemorating the 400th anniversary of his death. This Jesuit priest is a martyr who earlier in life made a conversion to Catholicism.
John Ogilvie was born in Scotland in 1579 and raised as a Protestant. He was sent abroad for studies where he converted to Catholicism. By 1599, he entered the Jesuit novitiate in Vienna leading to his ordination to the priesthood in Paris in 1610.
Father Ogilvie was missioned by his religious superiors to return to his native Scotland in 1613. Within a year was arrested in Glasgow. Having spent spent an extended amount of time in prison and he was tortured, but never denounced his obedience to Catholic faith and the leadership of the Roman Pontiff. On March 10, 1615, he was tried for high treason, found guilty and executed.
Father John Ogilvie was beatified in 1929 and Blessed Paul VI canonized him in Rome in 1976.