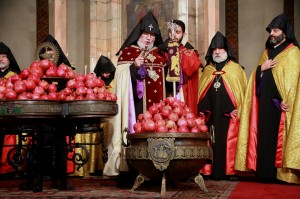 Here is a unique Christian tradition with the 2015 Blessing of pomegranates by His Holiness,  Karekin II, Catholicos of All Armenians in the Mother See of Holy Etchmiadzin. It is a tradition on New Year's Eve (or day).
The custom of blessing fruits was known among the Israelites; the Jewish custom originated in that the first harvest was offered to the temple: harvest gifts included wheat, barley, grapes, figs, pomegranates, olives and honey.
Pomegranates are considered by many faith traditions to be the fruit of the tree of knowledge and they are also a symbol of plenty and life.
In the Christian Church, the pomegranate symbolically represents the Church. "The seeds of the pomegranate, though separated by thin membranes yet hold tight together, same way Christian Church holds all Christians around the world together in Christ's love; though separate but not divided. Pomegranate shows unity in diversity. The crown of Pomegranate represents Jesus' crown and His sovereignty over the world. The red color symbolizes His Salvific Blood that was shed for All. It also contains 365 seeds as the number of days in a year symbolizing new life in Christ the new year."
Armenia accepted Christianity as its official religion in AD 301.